Amanda Fox
Founder, Dressability
PropelHer Alumni 2020/21
Through her business Dressability, Amanda is able to help people improve their confidence and experience the joy of self-expression that comes from rocking a truly stylish outfit. It's something she is very passionate about and says that her fashion styling goes beyond the catwalk and Instagram norms and offers "fashion styling for everybody's body, gender inclusive, plus-size and differently abled."
Having recently completed six modules of expert-led sessions in the Rare Birds PropelHer program, Amanda is looking forward to further growth having been one of 15 graduates of the program to also receive 1:1 mentoring with a handpicked mentor from the Rare Birds community.
Describe your 'A-ha!' moment when you knew you wanted to create a business helping people to feel confident about themselves through fashion?
The idea of Dressability as a business first came to mind when I started working in the disability space. My clients would often comment on my dress sense and style and share with me their frustrations around not being able to look stylish either ever or again. Their levels of motivation, energy and the feeling of exclusion made shopping for clothes just too hard. This then led to them feeling more depressed and isolated and a greater sense of being a burden to those nearest and dearest to them. Something simple such as shopping, that should have provided a sense of connection and be a fun and pleasurable experience just left a deeper sense of exclusion.
Who are your clients and how have you impacted their lives?
As my service is inclusive of disability a lot of my clients are from this sector, but I also have able-bodied clients. The one big thing that clients within the disability sector said without fail was that too much time was taken up on managing their disability – medications, doctors' appointments, navigating the NDIS and finding good support obliterated any sense of self. Each person I met and spoke to shared heart-breaking stories about how they had become completely defined by their illness and had lost touch with their inner joy.
Dressability has been able to provide that fun experience again.
At Dressability we pride ourselves on guiding our clients through the daunting process of fashion choice, we make the process fun, pleasurable, inclusive and accessible to all. Our mission is to deliver fashion styling for everybody's body, gender inclusive, plus size and differently abled.
Dressability is all about styling for all.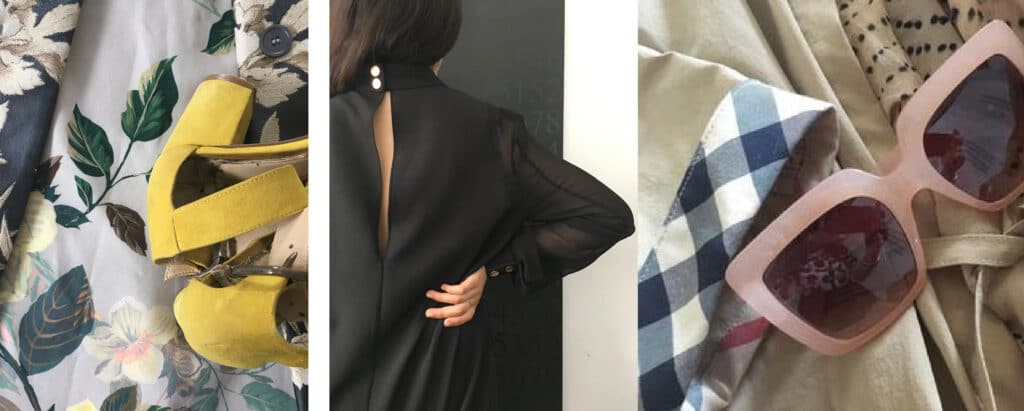 What do you like most about running a social impact business?
Since an early age I have been passionate not just about style, fashion and design, but I have always been very conscious of leading a life of inclusivity. I am a keen listener, naturally empathetic to others – making people feel comfortable in my company is integral to me – it's in my DNA! So it was only natural that I should marry my two passions, my lifelong career as a designer and stylist and my experience in the social sector.
I have a strong sense of self and purpose in my life and I have often been told that this emanates from my style and people connect to this.
As a creative person, I believe having the ability to express yourself and sense of style is a vital part of who you are. This belief and my empathetic personality naturally led me to want to assist as many people as I can to experience a real sense of self and purpose and identity through fashion and styling.
As a personal stylist my mantra is 'Rock Your Style' and my mission is to help my clients do just that; planning and shopping together for accessible and affordable clothing and fashion accessories that celebrates your individuality and unique style.
What has been your favourite moment so far on the Dressability journey?
In my work as a stylist I have lots of wonderful memories of happy client moments, but one that really stays with me is what my client called her real life Cinderella styling session!
Eve was one of my first clients. In her early 60's she had developed a condition called Kyphosis which had caused her spine to curve resulting in an appearance of a rounded back.
Eve had been invited to a special birthday party and was very excited as she hadn't been to a party in a long time. She had a limited budget but still wanted to buy that special party dress.
With my insider knowledge of pre-loved shopping in Sydney I knew I would be able to find her an outfit that she would love without breaking the bank! She laughed and said to me "Cinderella…you shall go to the ball!"
Then the real fun began as I found and added to the dress a beautiful black belt with diamantes. The belt added a real party feel to her outfit. Next were the shoes – she had told me that she only wanted flat shoes for comfort. This was the biggest part of the brief, but my favourite shop did not fail me as I turned around to see to see a fabulous pair of flat black sandals with diamantes that matched the belt. In the far corner of the shop a glimmering light caught my eye as I spotted a small silver fabric handbag to finish the outfit off.
Eve span around in the changing room and said to me "I feel like Audrey Hepburn!" Her excitement was infectious, and I was so happy for her that she loved what we chose and she was so happy. Other customers in the store commented on how wonderful she looked and you couldn't help getting excited with her and the pleasure she got from the outfit that she wore.
What advice would you give someone wanting to launch a social enterprise?
If you are passionate about what you are doing it comes across and you can take people on that journey with you. It's very rewarding seeing how your enterprise can impact on people.
Who has been your greatest supporter? How have they helped you?
Friends have been instrumental with support and motivation.
I have also had the benefit of a one-on-one business coach, Sara Berry from Realise Business, through the NSW Government program Business Connect. PropelHer has also really been invaluable  – I really enjoyed the buyer persona and target market session.
Why do you think that dressing well boosts confidence?
When you dress well you feel good about yourself both inside and out and this gives you confidence. To feel empowered that you have made personal choices that define who you are and what you would like to express about yourself. Not only is it mentally and emotionally beneficial for you to feel good about yourself you are more likely to give that feeling to others about yourself, hence boosting self confidence. Your dressing sense can reflect the real you.
Many clients in the disability sector say they feel invisible and are only seen for their disability. Dressing well and wearing your own personal style speaks about who you are and what you want to express.
What have been some of the roadblocks on your business journey and what did you do to overcome them?
I think having very little or no budget and to get something up and running has it's obstacles but on the plus side it shows motivation and passion can really drive you to achieve what you want. 
You have recently completed our PropelHer Program to help boost your business. What were your biggest learnings and how will you implement them at Dressability?
Every segment of the course was terrific but some ideas stayed with me such as: 
Strategy and purpose
Customer identification
I guess the above 2 have been more relevant to me right now as I have been working on this in my business, so it helped reinforce their importance in building a successful business.
The Strategy and purpose session really helped with my levels of motivation. Starting a business from scratch is hard and I was going through a little bit of a slump so this session really reminded me why I am doing what I am doing.
Customer identification really helped as I had already done a lot of research into my target market and it made me more confident that the initial work I had done was what was needed.
The PropelHer program was delivered in partnership with the City of Sydney