It's not easy being a pioneer and entrepreneurial leader. When Liz Cook launched One Seed 10 years ago, she knew that natural, pure and organic was the way to go with fragrances and skincare. But being ahead of the curve can be tough going. She shares her lessons from the retail trenches with Rare Birds.
One of our mottos is 'You can't be what you can't see'. Who, in your life, inspired you to become an entrepreneurial leader?
I would say my father. He is quite an entrepreneurial leader, and has had his own businesses for most of my life. Although he is risk-averse in some ways, he has always been the type to try to be open to different ideas, and encouraged us as kids to do the same. 
What was the catalyst for launching a natural perfume business? Describe the factors of your life at that time and tell the story of your "early days".
My first venture into business was in 2001 when I was 25, and I launched a natural skincare store (eventually opening 3 of them). Natural perfume sprang from that original idea – we were customizing skincare for our customers as part of our service, and an increasing number of people would come in and say they had switched all their products over to natural but didn't know what to do with their perfume. So they asked us to custom-blend perfumes for them. I was experienced in aromatherapy but not perfume at that stage, so I started to research and experiment and learn as much as I could.
I sold that business in 2007 with a view to creating a natural perfume company, and 18 months later ONE SEED was born.
The first 3 years were very difficult – I had 2 young kids, and natural perfume wasn't a thing yet, so there was a lot of pushing uphill in the early days! I was definitely ahead of the curve!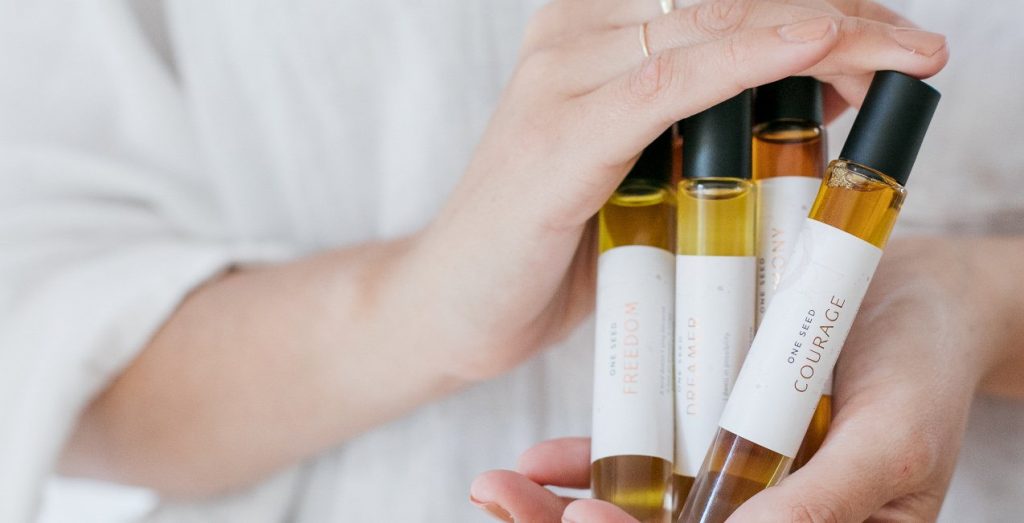 What has been the biggest challenge for One Seed so far?
Being ahead of the curve has been a challenge. It has meant having to hold on and keep paddling, even when people didn't understand what we were doing. There has been a need for lots of education for our market – and there still is. Breaking down people's perception of what perfume is and perhaps encouraging them to demand more of their perfume experience has been difficult. And we are working against the long-held traditions in perfumery of secrecy with a fully transparent approach. This is a big challenge, but something we really believe in.
If you could map milestones in your life journey, what would be the 5 most significant signposts?
In life generally, it would be:
1) moving from Canada to Australia with my family (I was just a little tike, but that certainly sent me in a different direction than I would have taken had I grown up in Canada.
2) At 10 years old, working passionately on concepts for donut business my parents were going to start, then being completely devastated when they decided not to go ahead.
3) Abandoning my first uni course in nursing – I thought I wanted to be a nurse most of my life, but half way through I realized I hated it, and had probably taken on other people's opinions about what I would be good at, instead of what I really wanted to do.
4) Launching my first business at 25 – I felt like I was doing what I was born to do.
5) Selling my first business – altogether devastating, exciting and a big relief. I understood after that what business life was and wasn't. It taught me to approach business differently, with more openness to the possibilities.
What do you think is an absolute essential character trait for being a successful entrepreneurial leader? Why?
Tenacity. Because it's a crazy ride, and you need to keep your eyes ahead no matter what. If you don't have tenacity, you won't make it. Tenacity means you won't fall at the first hurdle, or even the 100th one.
Please tell us what your product is and why you believe there is a market for it.
ONE SEED makes beautiful organic perfumes that smell like perfume. The demand for natural beauty products has been growing rapidly over the past decade, and the demand for natural fragrance has just begun. Natural and eco-friendly fragrance is currently the fastest growing sector of the fragrance market. People are starting to understand that perfume is full of synthetic ingredients that damage their health. They are starting to expect and demand more. We launched 10 years ago, so have a strong understanding of the sector. We have developed a reputation for creating beautiful products, and having a strong ethos that we live by.
"People are starting to understand that perfume is full of synthetic ingredients that damage their health, and are starting to expect and demand more."
What do you have planned for the future? What is your biggest scariest goal?
Our current goal is to get into major retailers both here in Aus, but also in the US and UK. That is where most of the effort is going at the moment. In addition, we will be rolling out a rebrand in early 2020 which we are very excited about. Scariest goal? To really start to scale up, and be able to produce ten times the volume we do now. And to start producing our own extracts in-house using C02 extraction equipment. That's an entirely new area for me! I am certainly not a scientist!
You have been part of the Rare Birds mentoring program for a while now. How has it affected your business as well as personally?
It's really helped me to fine-tune my approach to business as an entrepreneurial leader, especially in the areas of understanding financials. I love a good spreadsheet these days, and I love being across the figures, and seeing where we can make slight adjustments that will make a big difference to the bottom line. My mentor is really focused and clear and direct – just how I like it. She helps me to focus on the things that matter, and reminds me to focus on a couple of tasks and goals at once, rather than taking a scattered approach. That's how I ran my business for quite some time because of having to wear too many hats, and not having clear enough goals.
What advice would you give to someone thinking about starting an online retail business?
Do it well. Online retail has to be about the experience these days, not just about selling a product online. Give people something unique when they shop with you, and make sure you make them feel part of your family. And make sure your site is mobile optimised. The majority of people are now shopping from their mobile, not their desktop. Oh, and start with something like Shopify or Squarespace. These platforms are so cost-effective for new online retailers, and have amazing analytics and add-ons. You can literally launch a beautiful, functional store for less than $300!
You can shop the range of Liz's products at One Seed.
Related Articles: